the making of bunker
THE MAKING OF BUNKER #1 |
A behind the scenes peek at the filming and "off camera" action on the set of feature production BUNKER #1 featuring Roman Capellini and Jeremy Chris. We let the cameras roll between the takes, chatting with the actors about themselves and life.
The scene was shot in a real bunker in the suburbs of Frankfurt. Roman Capellini and Jeremy Chris, two experienced porn models had their first debut together and it seemed to me that they enjoyed it very much. Roman and Jeremy have everything it takes to be porn stars and they proved it during the whole shoot. Roman loves to have his bubble butt fucked hard and Jeremy loves to penetrate tight butt holes. The attraction was mutual and the chemistry perfect.
It's nasty but nice and you're invited behind the scenes to join the cast as they let you in on the secrets of the shoot and let you know just how much they love what they do!
I would like to say a big "THANK YOU" to the amazig cast and my crew. It was a long shoot but we all had a great time and a lot of fun.
Yours,
Jeremy Chris and Roman Capellini in BUNKER #1 directed by Nick Mazzaro.
Studio: Frankfurt Sex Stories | Release Date 14 September 2020
---
ACTORS
Roman Capellini
Roman Capellini is a male performer whose adult industry career started in 2019. He is originally from Venezuela, no doubt from his dark, sexy features. This boy is famed for his big uncut cock, an 8.5″ length of meaty pleasure. He has worked in movies produced by several studios. Roman is extremely skilled and has acted in movies which are associated with several categories. Roman exudes sensuality through his bedroom eyes, glowing face and especially that perfect ass made just for fucking. You'll want to pound that cute bottom all day long. Roman made his debut with Frankfurt Sex Stories in Bunker #1 together with Jeremy Chris.
Jeremy Chris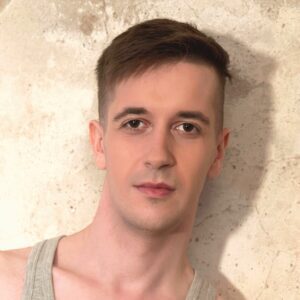 Jeremy Chris is a handsome adult male model of German origin who has worked with several adult production companies. Jeremy started his career in the adult industry in 2015. He is only top and is gifted with an 8″ thick, uncut cock and a lot of insatiable sexual appetite. This boy is highly talented and he knows exactly how to perform on camera to full advantage. Jeremy is also known for his easygoing attitude, lovely smile and his cheerful mood on set.  When you see this boy fuck an ass, you can tell that he loves it so much. His most recent movie Bunker #1 was released in September 2020.
THE MAKING OF BUNKER #1 – BEHIND THE SCENES VIDEO
---